APPELSCHA - The Netherlands
Miniature park Appelscha is a realistic reflection of the 3 dutch provinces Friesland, Groningen and Drenthe. You can see the contours of these provinces in the park. The miniatures are excellently copied, as is the scenery, on a scale of 1:25.
BEKONSCOT - United Kingdom
Bekonscot Model Village is the first model village in the world.
It consists of several small towns and villages, set in a beautiful miniature 1930's english landscape, complete with lakes, rivers, farms, fields, a huge railway system and a population of several thousands tiny residents!
The village is surrounded by meticulously maintained gardens, containing dwarf connifers and alpine plants, some of which have been growing since the 1920's.
The model village has begun as a hobby for Roland Callingham, a London accountant. His friend James Shilcock added a model railway. They lived in Beaconsfield and Ascot, so they decided to combine the names and call the village "Bekonscot".
CAPRI-ISLAND IN MINIATURA - Italy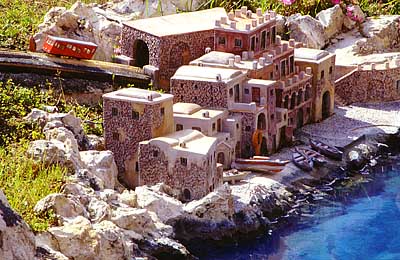 Capri-island in miniature is opened in 1996. In the park you can see 11 displays with information about the history, the customs and the folklore of Capri. Around a pool of approximately 200 square meters, there are a lot of ceramic miniatures and miniature plants.
CATALUNYA EN MINIATURA - Spain
Catalunya en Miniatura is the biggest touristic and cultural complex in miniature in the world and the only one in Spain. Its purpose is to let the visitors know the monuments, buildings and the most representative achievements of the Princedom.
The great catalan architect, Antoni Gaudi, could not be absent in this park. All his work is reproduced with the fidelity and love that he deserves. The magic of our universal architect shows its best with the fantastic and worldwide known work: The Sagrada Família. Besides the magic run there are also other masterpieces like the unmistakeble Pedrera, The Vicens House, The Güell Palace, The Botines House etc...
COCKINGTON GREEN - Australia