MINI-ISRAEL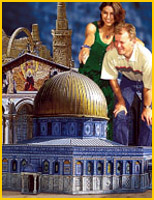 In Israel's new miniature city, visitors from around the world will have a close look at exact replicas (on a scale of 1:25) of hundreds of the most famous historical, religious, biblical and archeological sites of the Land of the Bible. The models were built by hand in workshops throughout Israel, many of them by new immigrant artists from the former Soviet Union. The models are built from polymeric materials and powdered stone. You will find 350 buildings, 14 trains, 32 planes, 3 helicopters, 175 vessels 4700 cars, 230 vans and trucks, 100 motorcycles and 15.000 miniature plants and trees.
40% of all models is dynamic.
MINI-CHATEAUX
This tour gives you a chance to explore the loire's most prestigious castles in miniature, in just half a day! Thanks to the exceptional quality of the reproductions, laid out among trees along a route stretching for 1,5 kilometres, you enter another dimension, venturing right into the historical heart of the Loire Valley. There are 6 miniature railways and boats, 10.000 figurines, 44 models, over 2000 bonsai trees and shrubs, shows and interactive games. The most important heritage sites in the Loire Valley.
MINIATUUR WALCHEREN
Minature Walcheren excists over 45 years and was built by 600 volunteers. It was opened in 1954 by Queen Juliana and was meant to be an exhibition for 1 year. In 1999 it got new owners. There was a large fire in 2001 and the park was closed until march 23rd, 2002. Miniature Walcheren is also called 'The garden of Zeeland'. You find over 250 types of plants, 30.000 bulbs, and 1400 bonsai trees. A large number of villages of Zeeland are built here. Over 350 miniatures are all selfmade. They are all built on a scale of 1:20. There are many moving models like trains, ships, cars, planes, a fire-brigade in action and even a concert of the famous Dutch Rockband Blof.
New in 2002
The 13 villages route
The carillonneur of the Cathedral "tall Jan"
COCKINGTON GREEN
Created by Doug Sarah and his family in November 1979, the Australian Tourism Award-winning Cockington green in Canberra features meticulously crafted miniature buildings of Great Britain set within superbly landscaped gardens. Late 1997 the first stage of an exciting new display featuring miniature buildings from Australia and around the world was opened. Cockington green is characterised not only by the accurate miniatures, all built on-site by Doug sarah and family, but also by the care and attention put into the gardens surrounding them. The display lawns in particular are spectacular. All models are made on the premises and include such things as a Scottish castle, a period house from Lewis in Sussex, a replica of Stonehenge and a typical village cricket scene.
New in 2002
Groote Constantia (South Africa)
Casa Vega (Chile)
Market Village, Medellin (Colombia)
"Binnenkruier" Windmill (The Netherlands)